New Publication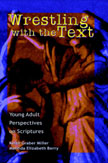 Just a brief promo here. My wife Jessica and I each have chapters published in a recent book called Wrestling with the Text: Young Adult Perspectives on Scripture. Each of the chapters in the book were conference presentations done at a gathering of Mennonites in New York City a few years ago. The idea was, get some youngish Mennonites and some midde-ageish Mennonites together to talk about their journeys with the Bible.
I think the goal of the conference planners was to see if there are identifiable generational shifts in how Mennonites view scripture. We talked about that. But more importantly for me -- and I think for Jessica too -- it was a validation of our personal experiences.
We attended the conference at a time when we had not too long ago decided to stop attending a Mennonite church and were rather confused about how to find a church home. Likewise, I had just completed my first year of seminary in an institution where I often felt alone and misunderstood in my journey of faith. Then, suddenly, there I was surrounded by Mennonite college and seminary professors, church leaders, pastors and other young adults hearing stories that intersected with my own and being offered the chance to tell my story in a supportive environment.
Thus, this book represents a moment in my faith journey that provided much-needed encouragement at a time when I was not so sure where I was going. Hopefully it can also be a useful contribution to anyone who finds the Bible to be a confounding and/or compelling sacred text.